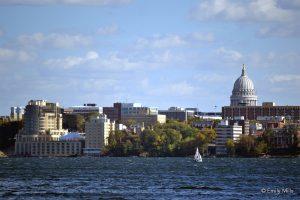 Madison, Wisconsin is one of only two U.S. cities built on an isthmus. Nestled between lakes Monona and Mendota, Madison is renowned for its beautiful four season scenery. Madison has five area lakes, over 260 parks, and over 200 miles of shared-use trails and paths. Madison is also home to the University of Wisconsin.
Madison has an estimated population of 248,951, making it the 2nd largest city in Wisconsin. The city's founder named the city Madison for James Madison, the 4th President of the United States who had died just prior to the founding of the city; he also named the streets of the city for the other 39 signers of the United States Constitution.
Madison is repeatedly ranked in the top, from best places to live, U.S. cities perfect for a weekend getaway (see #10) and #1 in 10 best college football towns. It has even been named the #1 greenest city in America.
Wisconsin is called America's Dairyland, and Madison is known for excellent farm-to-table food and some of the country's best craft beer.
---
Plan now and maximize your time in Madison!
We are pleased to provide the following resources via visitmadison.com to make your travel to Madison memorable:
Visitors guide with sidebars and listings loaded with information about our destination
Itineraries designed with free time in mind
Maps to help you find your way – whether you're walking or biking
Restaurant options to complete your perfect travel experience
First time to Madison? Experience the magic of Madison through our video, which showcases some of Greater Madison's finest features. Flying into Dane County Regional Airport? Find out if your hotel offers complimentary shuttle service.
Last but not least; don't forget to download our fee app. It's GPS-enabled, allowing you to easily find dining, shopping, attractions and more within walking distance of your location.
---
Things to Do in Madison
Art Fair on the Square – One of the mid-west's most popular and highly regarded outdoor celebrations of the arts, July 8 – 9, 2017.
Dane's County Farmer's Market – One of the country's most historic markets.
Happy Hour Brewery Bus Tour – Visit four local breweries and learn about the production process while enjoying samples of beer.
Wisconsin State Capital – A beautiful replica of the US capital, providing information of the rich history of the state. Tours available.
Olbrich Botanical Gardens – 16 acres of outdoor gardens featuring hardy mid-western plants, as well as a Thai temple, tropical plants and exotic birds.
Memorial Union Terrace – A gorgeous spot on the lake to people-watch, eat a bratwurst and enjoy free, live music.
---
Weather