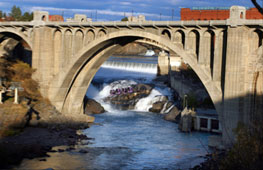 SPOKANE WASHINGTON
JUNE 13-17, 2011
ESNF - European Superconductivity News Forum - Pre-Publication Information


To Authors of Papers to be Submitted to CEC/ICMC 2011 for Publication in

"Advances in Cryogenic Engineering"
and
"Advances in Cryogenic Engineering (Materials)"
In addition to promptly pre-publishing CEC/ICMC 2011 invited papers which directly address R&D in superconducting materials and related technologies, ESNF,
the European Superconductivity News Forum
(
http://www.ewh.ieee.org/tc/csc/europe/newsforum/
), also gives authors of contributed CEC/ICMC 2011 papers the opportunity to compete for a
limited number
of open pre-publication slots in relevant topics of the CEC/ICMC 2011 program.

To avoid confusion, it must be noted that the official acceptance of a paper is only to be given by the publisher of the CEC/ICMC proceedings, AIP Conference Proceedings (AIPCP). ESNF will set up links to the final online version of the paper, once it appears in AIPCP.

Submitted manuscripts will be evaluated and selected by ESNF Editors and an ad hoc panel of ESNF reviewers. Selected manuscripts may appear in the October 2011 Issue of ESNF, if submitted by August 1st, 2011. Selected manuscripts of contributed papers submitted to ESNF by November 1st, 2011, will appear in the January 2012 Issue of ESNF.


To participate in the contest, please submit your CEC/ICMC manuscript via email to:
superconductivityforum@ieee.org
. Please mention the CEC/ICMC 2011 and
include
your CEC/ICMC program/presentation ID.
Thank you!

ESNF Editorial Committee