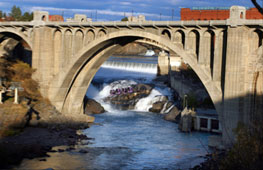 SPOKANE WASHINGTON
JUNE 13-17, 2011
About Spokane
Spokane Demographics –


Population: 204,428
Known as "Lilac City" and "Spokane Falls"
Elevation: 2000 Feet
The Spokane River runs through downtown with spectacular falls on the western end of the city core. Beautiful Riverfront Park also is in the heart of the city.


Quick Facts –

Has 178 sunny days per year

Spokane means "Children of the Sun" in local native language
Founded in 1872 as Spokane Falls
Hosted the 1974 World's Fair
Created "Bloomsday" - the largest timed running race in the nation

Hosts "Hoopfest" - the planet's largest three-on-three basketball tournament
Features the "Hot Zone" - free outdoor wireless internet in a 100 block downtown area
Childhood home of Bing Crosby
Home to four Universities
Famous People from Spokane –

Bing Crosby, singer and actor
Tom Foley, former Speaker of the House 1989-1994
John Stockton, all-time NBA assists leader, retired Utah Jazz
Mark Rypien, MVP Super Bowl XXVI
Ryne Sandberg, Second Baseman for the Chicago Cubs
Tom Sneva, 1983 Indianapolis 500 champion
Craig T. Nelson, star of TV's "The District" and "Coach"
Julie Sweeney, comedian and former star of "Saturday Night Live"
Jan-Michael Gambill, professional tennis star
Visit: Spokane Convention and Visitors Bureau for more information.