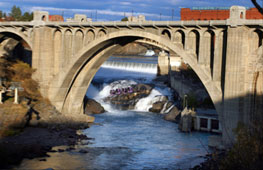 SPOKANE WASHINGTON
JUNE 13-17, 2011
Accommodation Information
The DoubleTree Hotel Spokane has reached capacity for reservations made at the special conference group rate of $129/night.
A number of hotels nearby have made a limited number of rooms available at varying rates effective Thursday, April 28, 2011. If you are interested in making your reservation at any of these hotels,
please click here
.
*************************************************************************************************************
DoubleTree Hotel - Conference Group Rate No Longer Available!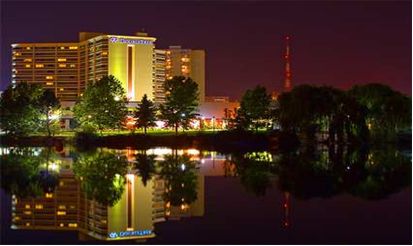 The Doubletree Hotel Spokane City Center is very excited to host the CEC/ICMC 2011!

The hotel is located at the intersection of nature and civilization. On one side, the rushing waters of the Spokane River and Riverfront Park. On the other, the Convention Center, INB Performing Arts Center, and easy access to all downtown Spokane has to offer.

The Doubletree Hotel Spokane City Center should be your first consideration as it is located in the heart of downtown Spokane, sits directly on the Spokane River and is the only hotel directly connected via sky-bridge to the Spokane Convention Center, and is just a quick 15 minute shuttle ride from the Spokane airport (GEG).
Some
amenities
of Doubletree Hotel Spokane City Center include:
Complimentary wireless high-speed Internet - available in all guestrooms and suites, accompanied with remote printing capabilities to the business center
Complimentary shuttle to/from Spokane International Airport (GEG)
Newly renovated fitness center
Heated, outdoor pool (seasonal) and hot tub (year round)
Wolfgang Puck in-room coffee service - with complimentary gourmet coffee and tea
USA Today® delivered each weekday morning
Views of Riverfront Park, the Spokane River, or the city skyline available

Lodging Rate

A special conference rate of $129 (US $) single/double occupancy for a Traditional Guest Room is available to all CEC/ICMC 2011 attendees. The room rates are exclusive of applicable state and local taxes (see below). The hotel cannot guarantee bed-type or sleeping room location but will certainly do their best to accommodate all requests.


Lodging Deadline and Requirements

Please make lodging arrangements early as space is limited. The cut-off date to make a reservation is Monday, May 02, 2011.

Rates do not include applicable state or local taxes or surcharges. The current tax rate is 10.7% plus $2.00 room occupancy tax but is subject to change.
One night's room and tax must be guaranteed to a credit card upon making reservations.
All deposits and inquiries should be sent to the Doubletree Hotel Spokane City Center and NOT to CEC/ICMC 2011 or Centennial Conferences.
Neither CEC/ICMC 2011 nor Centennial Conferences are responsible for your lodging arrangements. However, Centennial Conferences will be happy to assist you should you experience any problems or have questions. In such cases, please contact Centennial Conferences by email.

How To Make Your Reservation

For reservations, please call [001] 509-744-2363 and ask for Reservations). Please identify yourself as a participant of the CEC/ICMC 2011 Conference; group reservation code: "CRY". Alternatively, you may make your reservation online (note that the Group Code has been entered on your behalf).


Should the online option not accept your dates (as is often the case when making a reservation for dates outside the official dates of the conference), please contact the hotel at 001] 509-744-2363 and ask for Reservations) for assistance.


The Doubletree Hotel Spokane City Center is a very popular destination so it is important that you make your reservation before Monday, May 2, 2011. The group rate of $129.00 single/double occupancy will be honored three days pre/post the official dates of the conference based on availability.

Reservations OnlineReservation by Phone
Call 1-800-222-8733 (or [[001] 509-744-2363), ask for Reservations and be sure to mention the group code
CRY
to ensure the conference rate.
Other Lodging Information
Check-in time is after 3:00 pm and check-out time is prior to 12:00 noon.

A deposit equal to one night's sleeping room rate by a major credit card (Visa/MasterCard/Discover/Amex) or a check is required to confirm your reservation.

You should receive a written or email confirmation within two weeks. If you do not receive a confirmation, please call 1-800-222-8733 (or [001] 509-744-2363) and ask for Reservations.

Reservations cancelled less than seventy-two (72) hours prior to arrival date will be charged a fee equal to the first night's room rate.
Sharing Rooms

Roommates and guests are the responsibility of each individual. If one person cancels, the other(s) will be charged the full rate. Each roommate is asked to check in separately at the front desk and present his/her own method of payment


The Doubletree Hotel Spokane City Center
322 N. Spokane Falls Ct.
Spokane WA 99201
Phone: 509-455-9600
Reservations:1-800-222-8733 or 509-744-2363
Online reservation
Fax: 509-455-6285
Website: http://www.spokane.doubletree.com