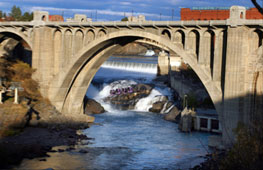 SPOKANE WASHINGTON
JUNE 13-17, 2011
Ancillary Meetings
We anticipate that a number of ancillary meetings and events will be held before and during CEC-ICMC 2011. This year it will not be possible for ancillary meetings to work directly with the convention center and be billed directly. Ancillary meetings will be managed by the CEC-ICMC 2011 Conference Manager, Paula Pair, with Centennial Conferences.
If you would like to arrange for an ancillary meeting or event at the Spokane Convention Center before or during CEC-ICMC 2011, you must contact Paula Pair by email to reserve function space and make the necessary arrangements.
Please provide the following information:
Subject/Title of Meeting
Meeting Organizer/Contact (with full contact information)
Date of Meeting/Event
Time (start and stop)
Anticipated Attendance
Setup Style (e.g. U-shape conference table, theater seating, etc.)
A/V Requirements (e.g. projection screen, overhead projector, projector for PC)
F/B Requirements
Upon receipt, ancillary meeting organizers will receive approval from Paula Pair and be assigned function space. Paula will also provide the appropriate cost lists pertaining to banquet menus, audio visual, internet, etc.
Organizers will be required to do and provide the following:
Complete meeting/event information, to include f/b guarantees, no later than 4 weeks prior to the conference.
Provide credit card information for billing purposes post-conference (checks will also be accepted).
Approve and sign off on all banquet event orders no later than 3 weeks prior pre-conference.
Approve and sign off on banquet event billing tickets at the conclusion of their meeting/event on-site.
Upon receipt of the final invoice from CEC-ICMC 2011 post-conference, approve and make payment within 14 days of receipt.

Please note that ancillary meetings will be responsible for all charges related to rental (if applicable) and labor charges related to function space set ups (if applicable). These costs will be made know to organizers at the time of booking and included in the banquet event orders which require authorization by the organizer in advance.