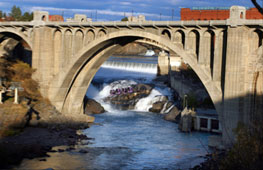 SPOKANE WASHINGTON
JUNE 13-17, 2011
Special Student Session

CEC/ICMC will, for the first time, host a Special Student Session on Wednesday, June 15, 12:45 - 1:45 p.m.

During this lunchtime session, students will be exposed to potential research career paths. Researchers from the groups sponsoring the event will also share their career stories and advice for student studying superconductivity and cryogenics. There will be time for dialog and Q&A.

Students will receive a lunch voucher, courtesy of our Sponsors, to the "Go-Gourmet" grab & go food vendor which is located in the Spokane Convention Center. Students should then proceed to the Special Student Session room (TBD) for the session to start at 12:45 p.m.

Students interested in attending this special session should indicate their interested in the provided field on the Conference Registration form.

Additional information will be posted at a later date.
For questions, please contact Kathleen Amm by email.