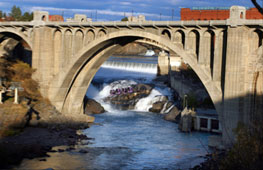 SPOKANE WASHINGTON
JUNE 13-17, 2011
In Memory of Klaus Timmerhaus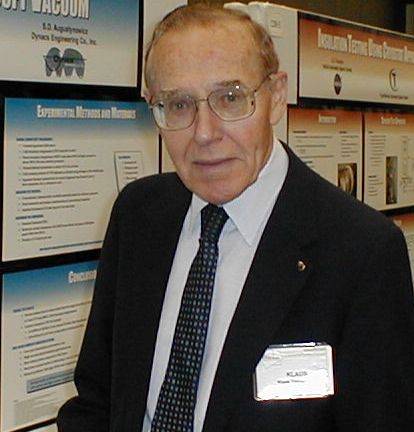 We regret to report that Klaus D. Timmerhaus passed away Friday, February 11, 2011 at the age of 86.
Dr. Timmerhaus is well-known in the cryogenics community for a number of accomplishments, including his involvement in the Cryogenic Engineering Conference and for serving as founding editor of the publication Advances in Cryogenic Engineering, which he edited from 1954 to 1980. He also co-authored the monograph Cryogenic Process Engineering, which is one of the most valuable texts in the field of cryogenics. In recognition of these efforts, Dr. Timmerhaus was awarded the Samuel Collins Award in 1967 by the CEC board for outstanding contributions to the field, and was also made a Fellow of the Cryogenic Society of America in 2005.
In addition to his leadership with the CEC, Dr. Timmerhaus was very active in the International Institute of Refrigeration and the American Institute of Chemical Engineers. He received the IIR Penzer award in 1989 and was conference chair of the 2003 IIR World Congress. He also held leadership posts within the AIChE and received numerous service awards from that organization.
Dr. Timmerhaus worked part-time at the National Bureau of Standards and was the author of many data sheets on low temperature properties. He taught courses on cryogenics at the University of Colorado at Boulder for 43 years and served as Associate Dean of Engineering for Research for over 20 years.
Dr. Timmerhaus was born in Minneapolis, MN and graduated from Palatine High School in Illinois. He served in the Navy during WWII as a Radar Specialist in Corpus Christi, TX. He is survived by his wife, Jan, of four months from Mount Shasta, California; daughter Carol and son-in-law John Getty of Boulder, Colorado; sister Gudren and husband Dave Gaskill of Golden, Colorado; grandchildren Kristina and Matthew Getty of Boulder, Colorado.


See http://www.dailycamera.com/obits/ci_17385517 for a more complete obituary.

Contributions may be sent to: Hospice Care of Boulder & Broomfield Counties, 2594 Trailridge Drive East, Lafayette, CO 80026, or the Klaus D. & Jean L. Timmerhaus Scholarship Fund, 422 UCB, Boulder, CO 80309-4022.

A tribute to Dr. Timmerhaus will be printed in the Spring issue of Cold Facts. We invite you to send your memories and anecdotes by email to Laurie Huget.