Click on the image to open the Call for Abstracts in PDF format.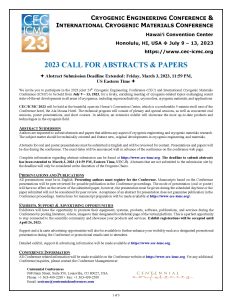 ---
–> Click here for Abstract Submission Details. <–
---
CEC-01 – Large-Scale: Refrigeration and Liquefaction
CEC-02 – Large-Scale: Systems, Facilities and Testing
CEC-03 – Cryocoolers: Non-Aerospace
CEC-04 – Cryocoolers: Aerospace
CEC-05 – Components: Expanders, Pumps, Compressors, Heat Exchangers, etc.
CEC-06 – Applications: Superconducting Systems
CEC-07 – Applications: Instrumentation, Visualization, and Controls
CEC-08 – Applications: Cryo-fuels Testing and Logistics
CEC-09 – Applications: Aerospace
CEC-10 – Applications: Quantum Systems and Materials
CEC-11 – Applications: Medicine and Biology
CEC-12 – Fundamentals: Thermal Properties and Theory/Numerical Studies
CEC-13 – Miscellaneous
CEC-14 – Special Sessions (By Invitation Only)
ICMC SUBMISSION CATEGORIES
ICMC-01 – NbTi/Nb3Sn/A15
ICMC-02 – MgB2 Wires and Tapes
ICMC-03 – BSCCO Wires and Tapes
ICMC-04 – REBCO Coated Conductors
ICMC-05 – Flux Pinning and Critical Current
ICMC-06 – LTS and HTS Cables
ICMC-07 – HTS and MgB2 Bulks
ICMC-08 – Fe-based and New Superconducting Materials
ICMC-09 – Modelling and AC Losses
ICMC-10 – Aging/Fatigue of LTS and HTS (e.g., Rotating Machines, Pulsed Magnets, …)
ICMC-11 – Thin Films, Multilayers, and Artificial Structures
ICMC-12 – Cryogenic Materials Testing and Methods
ICMC-13 – Metallic, Ceramic, Composite and Polymeric Materials
ICMC-14 – Insulation/Conduction, Resins and Impregnation, and Dielectric Properties
ICMC-15 – Thermal, Electrical, and Magnetic Properties, Radiation, Degradation
ICMC-16 – 3D Printed Materials
ICMC-17 – Superconductor Measurements: Mechanical, Electrical, AC Loss and Stability
ICMC-18 – Topological Materials for Electronics
ICMC-19 – Applications: Microelectronics, Photonics, Sensors, Detectors, Computation (Quantum, neuromorphic, others)
ICMC-20 – Applications: Power Electronics, Electric Propulsion, Transportation
ICMC-21 – Applications: Fusion and Accelerator Magnet Technologies
ICMC-22 – Applications: Superconductors in Space
ICMC-23 – Hydrogen Technologies and Compatible Materials
ICMC-24 – Sustainability / Life Cycle Analysis
ICMC-25 – Low Temperature Materials Database (By Invitation Only)
ICMC-26 – Special Sessions (By Invitation Only)
---
CALL FOR SPECIAL & JOINT SESSIONS OR PROGRAM SUGGESTIONS
The CEC and ICMC Organizers invite the community to propose Special and/or Joint Sessions within the general scope of the Conference. To submit your special and/or joint session proposal, please email the appropriate Program Chairs listed below prior to the abstract submission deadline to include the session title and abstract along with the motivation of the special and/or joint session.
Suggestions concerning the technical program, particularly topical workshops and special sessions, should be directed to the appropriate Conference or Program Chair.
CEC Conference Chair
CEC Program Chair
CEC Program Vice-Chair
Wesley Johnson
NASA Glenn Research Center
Cleveland, OH
Jacob Leachman
Washington State University
Pullman, WA
Ram Dhuley
FNAL
Batavia, IL
 
 
ICMC Conference Chair
 ICMC Program Co-Chair
ICMC Program Co-Chair
Sonja Schlachter
Karlsruhe Institute of Technology
Eggenstein-Leopoldshafen, Germany
Judy Wu
University of Kansas
Lawrence, KS
Klaus-Peter Weiss
Karlsruhe Institute of Technology
Eggenstein-Leopoldshafen, Germany